Products
All technical data presented represent typical results, unless stated otherwise as min/max values.
No guarantee is made that material will meet exactly the values shown.
Mesh Case Coin Kit
Mesh-Attached 2032 Case
For: Lithium-Air batteries, Air-Zinc batteries, Fuel Cells, various sensors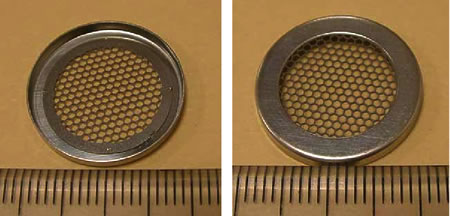 Case

Coin Size :
Hohsen 2032
Material :
SUS316L
Thickness :
0.25 mm
Open Hole ID :

14 mm
 Mesh Plate

Material :
SUS304
Thickness:
0.2 mm
Plate OD :
16.7 mm
Mesh Area OD:
14 mm
Porosity of OD14mm :
70%
Welded to the case :
with 4 points
CR2016 coins are also available with mesh cases.