Products
All technical data presented represent typical results, unless stated otherwise as min/max values.
No guarantee is made that material will meet exactly the values shown.
Heat Sealer for Fourth Side of Pouch with Vacuum Electrolyte Filling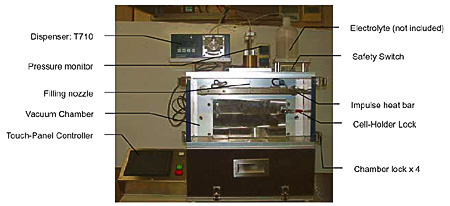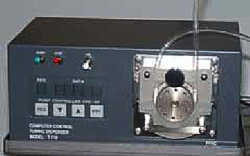 The design and its dimensions are subject to change for further improvements.
Specifications
Objective:
To heat seal a laminated puch cell by impulse-sealer after filling electrolyte under vacuum. Three sides of the cell must be closed prior to this operation.
Sealing Method:

Heat-bars

Min. Pressure:
-90KPa, by Vacuum pump, monitored.
Electrolyte:
Dispensed by tubing dispenser: T710 (no volume limit)
The electrolyte volume is controlled by # of rotations of thedispenser.
Cell size:
100mm x 100mm ~ 297mm x 210mm
Seal Width:
5 ~ 10mm
Temperature:
~ 300°C
Air (Ar.) supply:
0.5MPa, Terminal with PT1/4
Size:
680mmW x 400mmD x 800mmH
Weight:
80kg [HSTS-06], 19kg [vacuum pump]
Power:
AC100V, 50/60 Hz, 15A
Flow-chart:
Vacuum > e-filling nozzle down > e-filling > e-filling nozzle up > heat-sealing > releasingto atmospheric pressure
*Time and the sequence are controlled digitally on the touch panel.