Products
All technical data presented represent typical results, unless stated otherwise as min/max values.
No guarantee is made that material will meet exactly the values shown.
Electrolyte Filler VD102AS (cylindrical cans)
Model: VD102AS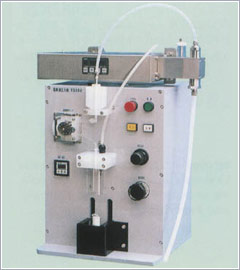 1. Objective
The VD102AS efficiently injects electrolyte into a battery can within an evacuated cell.With one button, the can holder will rise to create a vacuum, and the electrolyte will befilled into the can after precisely measured at the pump.

I. The injection amount is precisely measured using a motor drive pump.Setting the injection amount is easy.

II. The injection speed can be controlled at any setting using a flow control pump.

III. The electrolyte is injected from a stock tank through a flow control pump.

IV. Because the injection conditions, such as a pressure reduction, holding, theinjection, a pressure increase, can be independently set.

V. A vacuum level, injection rate, etc. can be adjusted manually.
 2. Specifications

a. Application:
Electrolyte vacuum injection machine for lab use.
b. Power:
AC100V, 50/60Hz 200W
c. Controller:
Sequence control
d. Compressor supply:
9.9kgf/cm2 or less (argon/N2)
e. Amount of injection:
1.0-7.8cc : HFP-12A
f. Flow rate of injection:
0.3cc/sec. Or Up
g. Max. Vacuum:
-97kPa (-730mmHg)
h. Max. Pressure:
196kPa (2.0kg/cm2)
i. Exterior dimensions:
Main body 300W x 450H x 370D
Vacuum Pump 122W x 160H x 203D
j. Weight:
Main body approx. 25kg
k. Standard accessory:
Battery holder (18650), nozzle, and an operational manual
Process Flow Diagram
Appearance