Products
All technical data presented represent typical results, unless stated otherwise as min/max values.
No guarantee is made that material will meet exactly the values shown.
Roll Press HSRP-2025
This roll press is to press and adjust density/thickness of electrode sheets with two metal rolls.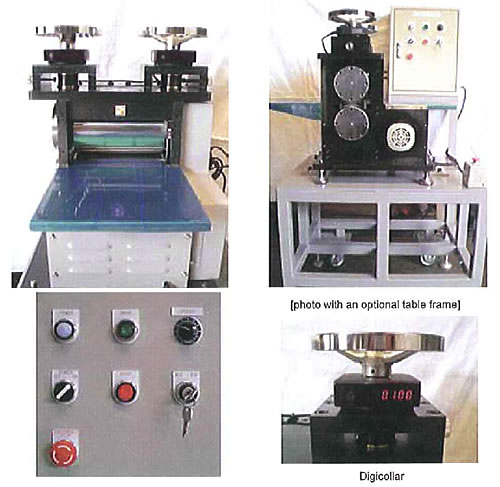 Model:
HSRP-2025
Top Roll:
Dia 200mm x 250mm W
Bottom Roll:
Dia 200mm x 250mm W
Roll Material:
SKD11, Hard-Chrome Plating
Roll Tolerance:
<0.003mm
Press Width:
<200mm
Press Method:
Mechanical with screw
Maximum Load:
2,000kg
Roll Gap:
0~1mm
Gap Control:
Two handles at both ends. Monitor: by 0.001mm with Digital Screw Encoder (Digi-collar) and monitor
Press Speed:
0.1~1.0m/min by geared motor: forward or reverse
Electrode Supply:
Manually, sheet by sheet
Safety Features:

Safety door at electrode entrance: with a limit switch.
   When open, power is shut down.
Safety cover at electrode exit: closed with screws.
Rotation mode switch with a key.
   In operation the rotation mode is locked at FOR.
   Rolls can be accessed from back for cleaning.
Two emergency buttons.

Power:
AC 200V, 15A, 3 phase, 5m long cable
No plug attached.
Size:
Press:
500mm W x 860mm D x 750mm H
 
Circuit Box:
400mm W x 200mm D x 500mm H
Weight:
280kg
Optional Functions at additional cost:
 
Table frame with wheels and locks
   Size: 705mm W x 1138mm D x 710mm H
   Weight: 120kg
Digital dial guage for gap monitor
Digital load guage
Digital speed monitor
* The specifications are subject to change.