Products
All technical data presented represent typical results, unless stated otherwise as min/max values.
No guarantee is made that material will meet exactly the values shown.
BHW-S Semi-automatic Winder
Electrode Winder: Model# BHW-S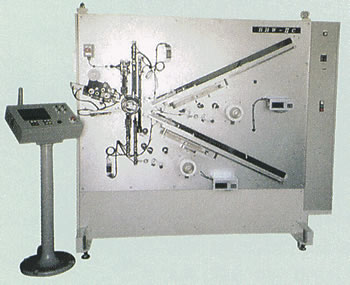 Outline
This system is to wind anode, cathode, and two separators, controlling theirtensions. Further, this automated winding machine cuts separators in aspecific length and fixes them together with a tape.Compatible for both cylindrical type and prismatic type.
 Specifications

(1) Utilities:
   
i. Power:
3AC200V 30A
   
ii. Air:
0.4Mp or over
(2) Size and Ability:
   
i. Main Body:
W1850 x H1800 x D950
   
ii. Control Panel:
L300 x W450 x H1215
   
iii. Ability:
20sec/piece at max.
(3) Work Size
   
i. Separator:
Maximum Width 70mm
   
ii. Electrodes:
Length 300?1000mm, Width 32.5?67.5mm
Main Functions
(1) Functions
A wind-up tension is controlled by two systems: a wind mandrel spindlecontrol and a back-tension control.
A wind-up speed can be digitally controlled once a desired speed isinputted by pulse counts
Tension of the separators is controlled by a joint-control of apotentiometer and a torque motor.
A wind-up speed can be controlled digitally once a desired speed isinputted by pulse counts
The original 2-head wind-up mandrel unit can wind up one roll whilepre-winding separators for the following roll, by manually rotating theunit.
A release switch (reverse action selective switch) prevents the mandrelfrom winding strips too tight.
Pick-up unit can push out the final products safely and harmlessly. Alsoa safety cover is placed in the front of the unit and the switch is turnedoff automatically when the cover is opened
A stand-alone control panel box.
Hard switches of a start, a stop and an emergency stop are mounted ona standard type.
Programmable controller (Omron PLC: sequencer)
(2) Strip LengthLength, to be defined by User.
Example:Winding directionAnodeSeparatorCathodeSeparator
(3) Misc.
(a)Operation Switches

Emergency-stop buttons

Stop button

Start button

Auto/manual selective switchThese are additional devices to those on the touch panel.

(b)Other Devices

Servo-motor (instead of the winding drive)

Front safety cover

Mandrel (mirror-finished surface)

Edge sensor

 
Application: