Products
All technical data presented represent typical results, unless stated otherwise as min/max values.
No guarantee is made that material will meet exactly the values shown.
Alumina Beads / Grinding Media

High purity alumina beads for grinding and dispersing media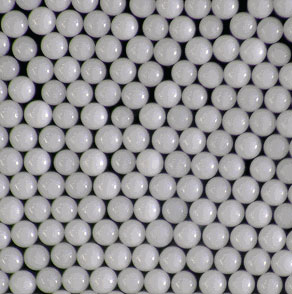 0.2mm
The high purity alumina beads that
we developed are characterized by excellent
abrasion resistance and high purity.
 
Features
1. Excellent abrasion resistance
When the high hardness ceramics is ground,
abrasion resistance is higher than
the zirconia beads.

2. High purity
The purity of the alumina beads is 99.99% or more.
When grinding, no contamination other than alumina.
It is suitable for grinding and dispersion of the electronic material that dislikes mixing
the radioisotope.

3. Excellent corrosion resistance
It is excellent in corrosion resistance to the acid and the alkali.
There is no performance deterioration to the warm water.

4. Energy saving of grinding and dispersion
The density of alumina is 2/3 of the zirconia, and the filling weight to the mill is 2/3.
In addition, there is a possibility that the consumption energy when grinding can be
decreased.
Size of beads

0.1mm,

0.2mm,

0.3mm,

0.4mm,

0.5mm
Density
Apparent density : 3.9g/cm3
Filling density   : 2.4g/cm3
Typical purity data    
| | | | | | | | |
| --- | --- | --- | --- | --- | --- | --- | --- |
| Element | Na | K | Si | Fe | Mg | Ca | Cr |
| Content / ppm | 8 | 4 | 10 | 8 | 3 | 3 | 2 |
Analysis by ICP (U 4ppb or less, Th 5ppb or less)
Abrasion resistant test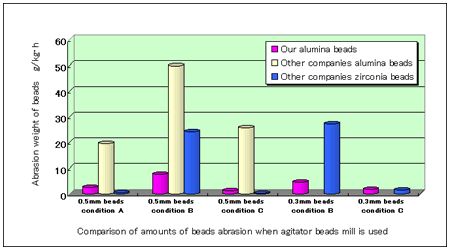 Mill type:

Agitator beads mill

Grinding material:
a

-alumina powder or aluminum hydroxide (Gibbsite)

Concentration of slurry:
60% in case of a-alumina powder
15% in case of aluminum hydroxide
Rotor speed:
7.8m/s, 12.6m/s
Slurry temperature:
20 - 30
Test condition A
Use slurry : No grinding material, only water
Rotor speed : 7.8m/s
Test condition B
Use slurry : Alumina slurry of 60%
Rotor speed : 12.6m/s
Test condition C
Use slurry : Aluminum hydroxide slurry of 15%
Rotor speed : 12.6m/s