Products
All technical data presented represent typical results, unless stated otherwise as min/max values.
No guarantee is made that material will meet exactly the values shown.
Titanium Dioxide, High-Purity Powders
Pred Materials is pleased to market advanced TiO2 powders. These are produced by gas-phase reactions between refined TiCl4 and O2 under specially controlled conditions at high temperatures. With such high purity, these powders are used mainly in the electric and electronic industries as the material for electro-ceramic parts, such as PTC (Positive Temperature Coefficient) thermistors and MLCC (Multi-Layer Ceramic Capacitors). Our TiO2 has recently found applications in optical glass lenses, replacing lead-containing compounds. Production capacity is 180 metric tons per month.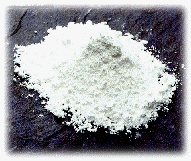 Applications

Electrode of MLCC
Dielectric for MLCC
PTC Thermistor
Dielectric Resonator & Filter
Piezo Electric Element
Pharmaceutical
Specifications
(1) Grades for Electronic Use
Grade
TiO2
%min.
Al
%max.
Fe
%max.
Cl
%max.
Rutile content
% 
Ignition Loss
% 
Surface Area
m2/g
Average Size
µm
0210
99.9
0.002
0.002
0.01
≥90
≤0.1
2 - 3
2.10 - 2.55
0514
99.9
0.002
0.002
0.025
≥90
≤0.25
5.5 - 7.5
0.50 ~ 1.00
1311
99.9
0.002
0.002
0.045
≥80
≤1.00
8 - 14
0.30 ~ 0.90
1701
99.9
0.002
0.002
0.05
≥80
≤0.95
50 ~ 80
≤0.42
2301
99.9
0.002
0.002
0.10
≥80
≤1.50
20 - 25
<0.25
2321
99.9
0.001
0.001
0.13
≤10
≤1.50
20 - 27
--
(2) 4N grade
Grade
TiO2
% min.
Al
Fe
Si
Sn
As
Ni
Cr
Cu
Cl
Rutile Content
% min.
Surface Area
m2/g
ppm max.

0270

99.99

1

5

1

1

5

1

1

1

100

90.0

2 - 3